Why you should rent a generator instead?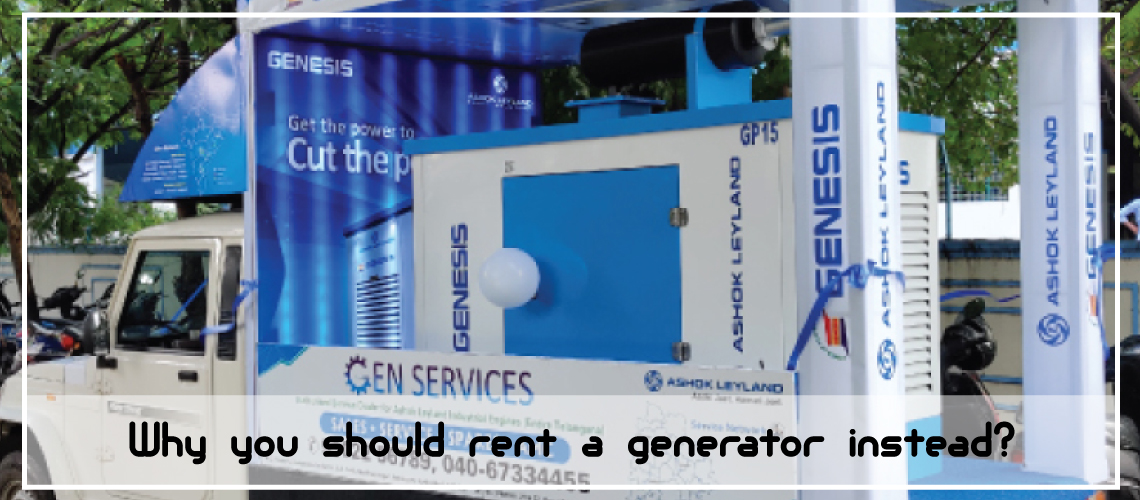 Power is a very essential part of almost every business and that too with a consistent supply. Chains like departmental stores & commodity manufacturers need consistent power to have their business running smoothly and this is where the importance of generators comes in. A generator has become an essential equipment to have in our day to day lives where the need for a consistent standby power source comes into picture.
Renting a generator will be an excellent option for any organization or individual looking for standby power over an extended period without spending high expenses. In terms of renting a generator, we are responsible for all other related activities, including installation and maintenance.
Different needs require different types of generators, that are chosen as per the power output delivered & usage from the customers end. Often it is seen that the need for a generator could arise on a daily basis, where renting one is more economical than buying the DG set.
Few reasons to rent a generator are as follows :
Low maintenance – When renting a generator its maintenance is not your immediate responsibility. The generators that are rented from Gen Rentals are made sure to be in their best performance so that the customers need not worry about the DG set being overused in scrap conditions.
Saving Expenses – Renting a generator is cheaper and more economical than buying a new generator. Usually when a customer wants a generator for temporary purposes, buying a whole new generator just for a limited span of time might not be a wise financial decision, so in these situations it is beneficial to rent a generator instead.
Available on Short Notice – Sometimes there is an immediate requirement for certain goods depending on the situation. In such cases availing goods on rent tend to have a faster service. Even though we are proud of our fast customer service for both newly bought DG sets and rental DG sets, we recommend renting a generator in emergencies or other types of immediate requirement situations.
Flexible Duration – When renting a generator, the user has the advantage of setting the duration of the rent as per requirement, this allows maximum flexibility of duration and the amount to be paid for renting as different duration accounts for different prices.
At Gen Rentals we make sure that our clients get the best of what they require. With our close inspections and monitoring of the generators and DG sets, we make sure that everything is up to the mark to our standards along with our fast and reliable services. We guarantee nothing but the best products and services to our customers.
To book a generator set for rent, get in contact with our customer service at +91 9246275543 or mail us at info@genrentals.in and be a part of our satisfied customer base. You can contact us not only to rent a generator but also to get a consultation & we will ensure that your queries are resolved in the best manner possible.