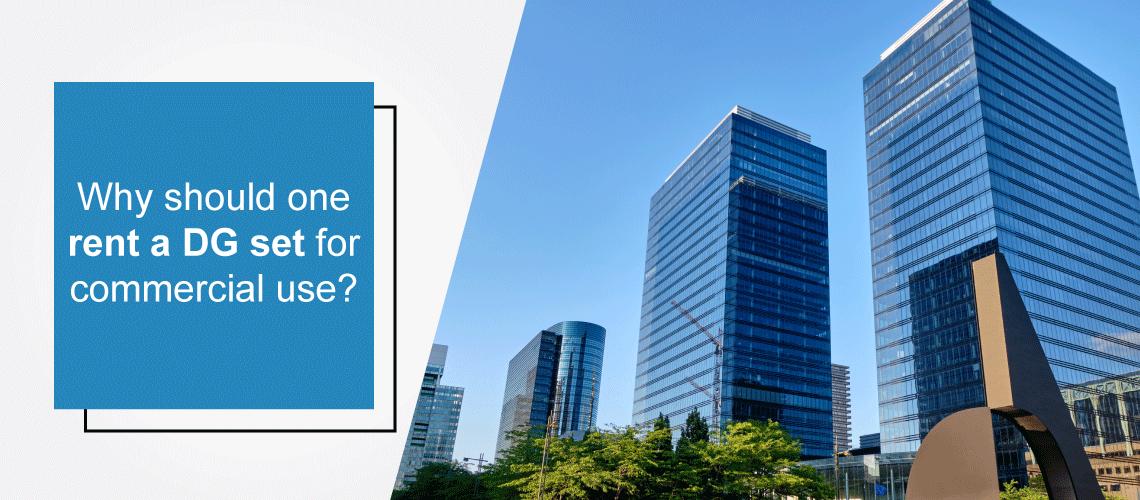 Why should one rent a DG set for commercial use?
Hi readers, how is it going? We chose to present you with a vital subject for today's column and that highlights the benefits if you were to avail a DG set for rent to run commercial operations on a regular basis. So did this ever strike you while you were hunting for a good diesel generator for commercial use? If yes, then you are bound to make good decisions ;)
Commercial activities and standby power on rent coexist
Diesel generators for rent in Hyderabad have become quite popular with commercial establishments picking up pace every now and then. With a staggering Gross state domestic product (GSDP) at INR 13 trillion for 2022-23, this figure is bound to escalate even more. More startups, enterprises, heavy machinery and factories have been established to cope up with the rising demands. As a result the need for electricity too has shot up.
This has resulted in coming up with a standby power solution that can only be delivered with an efficient and powerful diesel generator. The only purpose is to have a constant source of electricity to keep commercial activities such as manufacturing, construction, production, storage etc. Be it an I.T firm, a bank, data centres, supermarkets, warehouses, hospitals, showrooms, Sports complex and the list can go on and on.
They just cannot afford to incur losses, just because somewhere due to something the electricity supply failed. All they need is a mega surge of standby power/electricity so they can resume their standard operation even during the power cuts.
What do you gain from renting a DG set for commercial activities
Huge capital is involved in running the commercial centres. Their core objective is to minimise wastage and maximise productivity and output, even during the power outage. As a result they wouldn't prefer shelling out extra for buying a DG set. Instead, they would rent one.
The DG set service advantage is budget friendly under rental schemes and is often taken care of by the rental company.
You can rent DG sets for a few days, months and years and it is always economical to rent it out on an annual basis. DG set rental and trust cannot be separated.
Even the DG set rental company understands the value of time and capital, hence they sometimes don't hesitate to give these business centres discounts and other benefits if they prefer to opt for long term rental use.
It makes some sense if you were to go on a holiday where you wouldn't buy a plane, instead just charter one for a few days since the goal is to save more. So there is a price difference between renting and purchasing.
When you opt for a DG set rental, there are very good chances that others might follow your footsteps. Even they would love to save more by renting. It's good for their business too. As a result, the diesel generator rental company benefits more and it's a win-win situation.
You also gain respect, value & trust. Seeing your dedication, your commercial activity may attract more clients and projects. Even if they ask you, you can convey that it is all because of the excellent DG set rental and service associated with it.
Sometimes value, time & intelligence also plays a pivotal role
Your commercial activity might be big or small, but what's crucial is to keep the consistency in production and profits consistent with negligible shortfalls. You just can't imagine these activities without a perfect delivery of standby power. Just opt for rent and witness the difference for yourself. The benefits of renting a diesel generator just cannot be fully expressed in words. What more do you ask for when you get the best rental services within budget, numerous power output variants and best service? Gen Rentals in Hyderabad has been providing fantastic DG sets for rent for many years leaving smiles behind. There are wonderful variants such as trolley type DG sets, mobile van set, stationary type DG set and tower light DG set.
You can call Gen Rentals now, on +919246275543 and also reach them on Genrentals.in. They are always ready and happy to serve you.
We hope this informative blog gave you a picture of renting a DG set for commercial activities. Watch out for more.