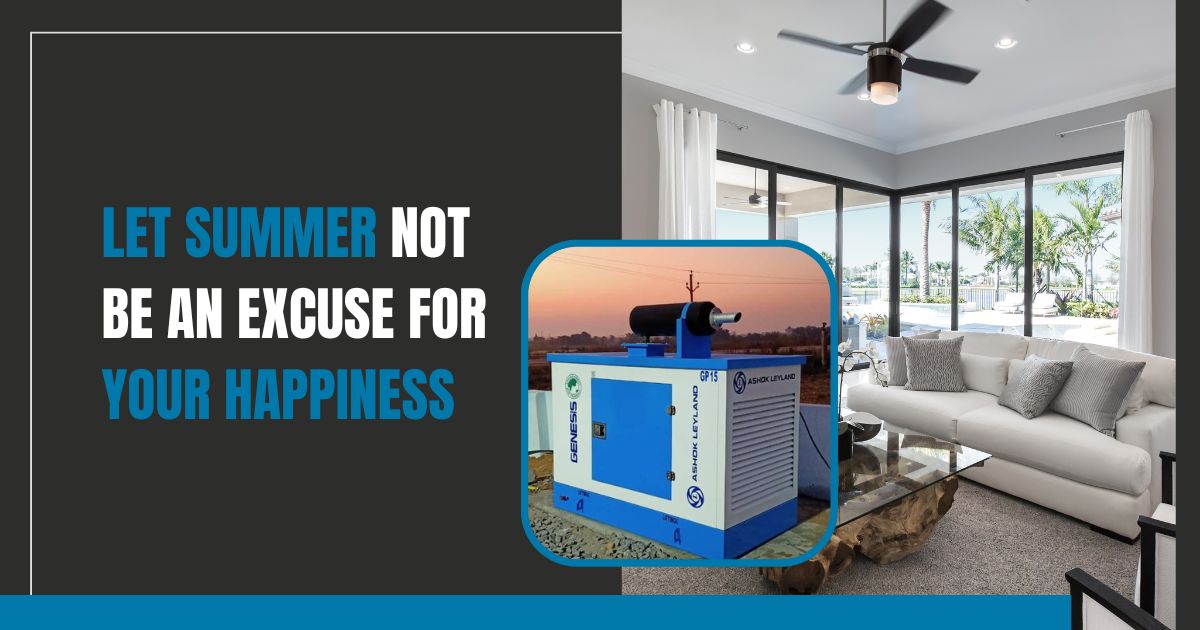 Let summer not be an excuse for your happiness
We bring this new column with onset of heatwave to guide you how to not lose your cool and business operations with frequent power cuts. India as an emerging global superpower cannot afford to make its ranking down due to power deficit. Did you know that manufacturing sectors contribute about 14.4 % while electricity (power) contributes 2.8 % to India's GDP?

A business is a business. Mega or mini, is not the question. The point is how well are you able to keep up to the clients expectations within the stipulated time frame. This is a grave challenge during summers especially, due to the load incurred on power generation plants, that in turn create a power deficit. When you have a business set up or is on the verge of expansion, an enterprise needs to ensure that electricity is available at all times for operations. This season, let power cuts not hamper your daily production activities. With advanced technology, research and development, diesel generators have undergone a major transformation. Modern day diesel generators are quiet, more power and fuel efficient and this criteria sits perfectly with all companies who are seeking for diesel generators for rent on a short term and long term basis.

Whether it is an MSME or a huge establishment, it is always a wise idea to have a diesel generator in the premises that would ensure power is restored in no time. Elevators, air conditioners, fans, lights, escalators and machines rely on a constant source of electricity, hence a diesel generator of appropriate power output can greatly assist, especially during hot summer months. Customers too would be relieved.

Hospitals are major centres that witness huge movements of visitors and patients. Saving the life of patients, treating the injured and storage of medicines are some of key activities at a hospital. There are devices that are totally dependent on electricity to operate, such as ventilators, oxygen concentrators, nebulizers, mobility devices such as powered wheelchairs besides lights and monitors in the surgical wards etc.In this instance,renting a diesel generator will help in maximising hospital operations in an uninterrupted manner.

Fresh fruits and vegetables have a low shelf life. Dairy and animal products need an ambient temperature (often preserved in cold storage) to be preserved before they can be dispatched to the shops. Again, electricity comes into picture, which drives cold freezers. Without power, the cold storage won't function thus deteriorating essential produce.

Households during summer months rely heavily on electricity for the functioning of air coolers, air conditioners. Post COVID, families prefer spending time indoors. So this entire apartment or a villa translates into an electricity magnet. A minute without electricity is like a living hell. A diesel generator ensures that the lift, lights and electrical appliances keep up to their potential.

Renting diesel generator helps a lot, let us see how :
DG set rentals are much easier on pocket.
One can rent for a couple of weeks, months or years.
Service and timely maintenance / service reminder is looked after by the DG set rental company, so you don't have to spend sleepless nights or sacrifice your schedule for the maintenance.
An attractive range of power output, suiting your needs.
While the hot sun does its job, let the budget friendly diesel generators secretly make their way into your office and home premises. Let not the ice cream melt. Summer is the time to keep the spirit of business and operations high. Gen Rentals is your one stop solution for budget friendly diesel generator rentals in Hyderabad. Did you know that Gen Rentals hold a fantastic client base that includes some top brands of India for over years now, and you can be a part of it too? Make the best out of your enterprise this summer with Gen Rentals. Don't forget to save their numbers (it will keep you cool) : +919246275543 & genrentals.in.

Share this column with your friends, family members, neighbours. Thank you readers for coming along in today's journey.