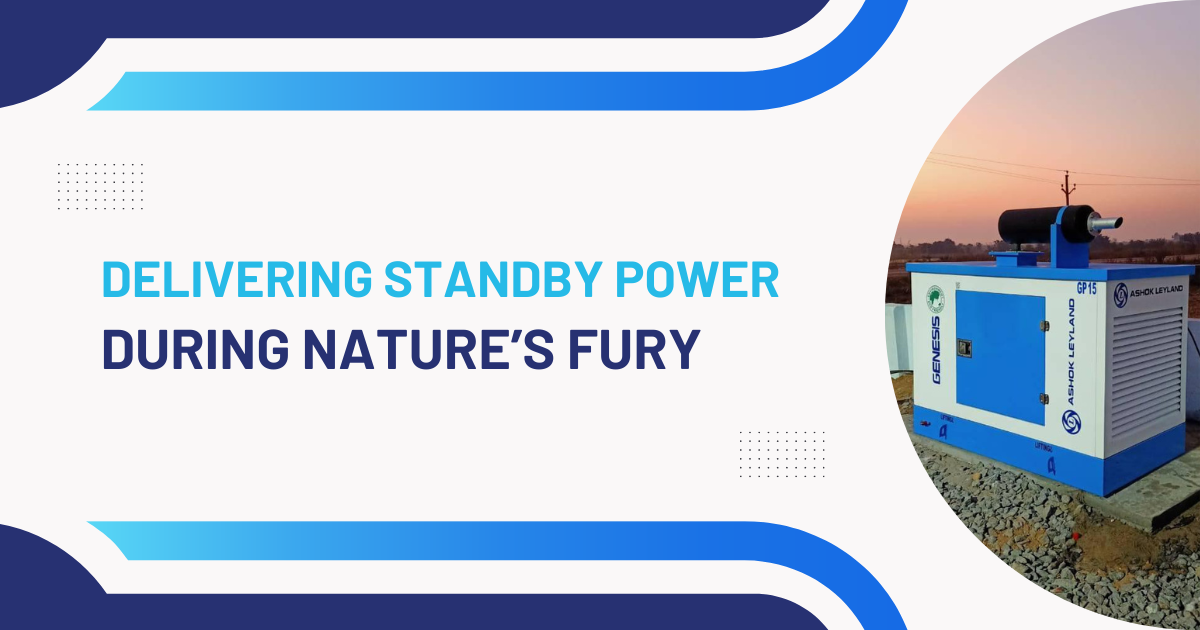 Delivering standby power during nature's fury
Can you imagine the plight of those affected by natural disasters? No power, no food or water with help kilometres away. Spending the night in the freezing weather is just unimaginable. During such a phase, electricity is the key necessity - to conduct search and rescue operations, for bulbs and LED lamps in the rescue camps and makeshift hospitals and to power the equipment used for the communication.
A natural disaster (floods, earthquakes, landslides, forest fires and cyclones) is unpredictable hence it is essential to get prepared well in advance. The following is a story of how stand by power proved a saviour in the wake of the natural disaster. One of the popular tourist destinations in Andhra Pradesh was hit by a devastating category 3 cyclone in 2014. Even though the warning was issued, it seemed to be like any other cyclone warning, because when you are used to low intensity cyclones then one fine day you suddenly stop caring about those weather warnings, thus taking it for granted.
As a precaution, a standby source of electricity was pushed into place at a safe assembly and dispatch point. Did you know Gen Rentals helped communities and officials by providing diesel generators to deliver standby power at camps. First aid, lighting was possible due to electricity derived from these diesel generators. The prime goal here was to provide a source of power to carry out basic functions for agencies and parties involved. It took over a week before electricity was fully restored. How do even hospitals function with power? Gen Rentals stood by them and assisted them in the best manner possible. Because society is reliant on us, it is our responsibility to devote our services to them in times like these.
You never have to search all over again for budget friendly diesel generator
To keep appliances working, for industries and enterprises, residential areas and during natural disasters, Gen Rentals has a wide range of diesel generators at your disposal. You can rent them for weeks, months to a year in the form of trolley type, mobile tower light type, stationary type variants. Did you know that Gen Rentals, your go to hub for budget friendly DG set rentals in Hyderabad also takes care of the service and maintenance whenever needed? For inquiries, please reach out anytime on +919246275543 & also available on genrentals.in.
The aim of this blog was to give you an insight to some special segments of diesel generator rentals. Thank you for joining us today.