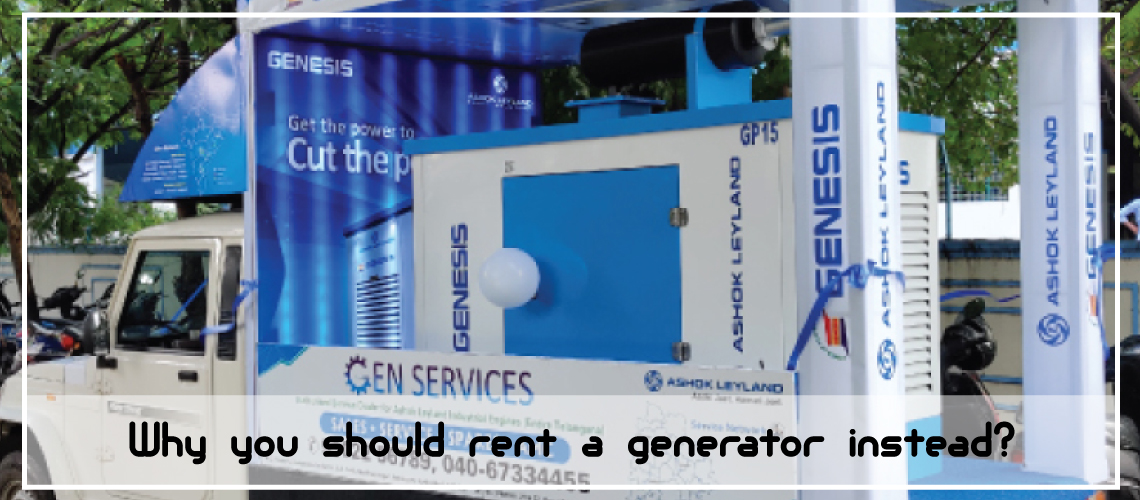 Should I rent a Diesel generator set or buy one ?
Another great day to start a new blog topic. We often buy products that seem important to us, which are vital for our daily activities such as groceries, water & life saving drugs. Here, we know that commodities matter to us hence we purchase and sometimes even keep a stock of the same, in case of emergencies.
Decision making is bundled with various situations
An apartment, an industry or any other establishment has its own requirement for a backup form of electricity supply. This backup transfer of electricity is often carried out by a diesel generator, which has indeed become popular amongst people everywhere. So, before opting to buy or rent a DG set certain conditions and factors need to be analysed first, that are mentioned below-
Location of the premises / Accessibility
Type of premises (Apartment, hospital etc)
Duration and frequency of the power outage
Budget planning
About the DG set rental company
Benefits
Service aspect
There is no hard and fast rule that limits an individual from either renting or buying a diesel generator and often it is up to their capacity. One needs to be practical though. For example, you want to travel with friends for some 3-6 months back to back and the car / SUV seems to be a perfect option. So, would you buy a new car straight away from the showroom, shelling out lakhs of rupees which is triple than the budget of your trip? Buying is a half-witted thing that one could ever do. Hence, that is the reason why car rental companies are ready to serve you that often give you additional benefits.
All you have to do is do some research , check the reviews, forecast and plan the budget and you are good to go. Similarly, it is a wise decision to check out for the best DG set rental company that fulfils your requirement for the standby power without burning your pocket.
Quickly, let us hover over some interesting facts about renting a DG set
The cost of renting a diesel generator is often less or equivalent to the price of the new DG set.
While you rent a DG set, you don't pay for anything extra.
You get access to more power output options according to your requirement while opting to rent a DG set.
Did you know that the diesel generator rental company looks after the installation and the service aspect of the machine, so that it's a one complete savings package.
Flexibility in tenure of the rental period, which can be either short-term (days to months) or long-term (one year or more).
You often get mega discounts while renting the diesel generator and hence it is a good idea to make use of this opportunity.
Besides savings, you are endowed with complete peace of mind.
Thought and money always matters
We as human beings are often spoiled by choices that often come at a huge price. There are certain areas where investing needs to be made with complete awareness of the circumstances because it is not a matter of a few hundred rupees. Hence, you can now save more with excellent and useful DG set rentals from "Gen Rentals", the leading provider of the best diesel generator sets in Hyderabad. With many happy faces to the list, you too can gain more out of the DG set rentals. For inquiries, call them on +919246275543 and also can be reached through https://genrentals.in/
Hope this blog generated the much needed level of awareness and assisted you in the decision making process. Thank you for devoting your time to this blog.