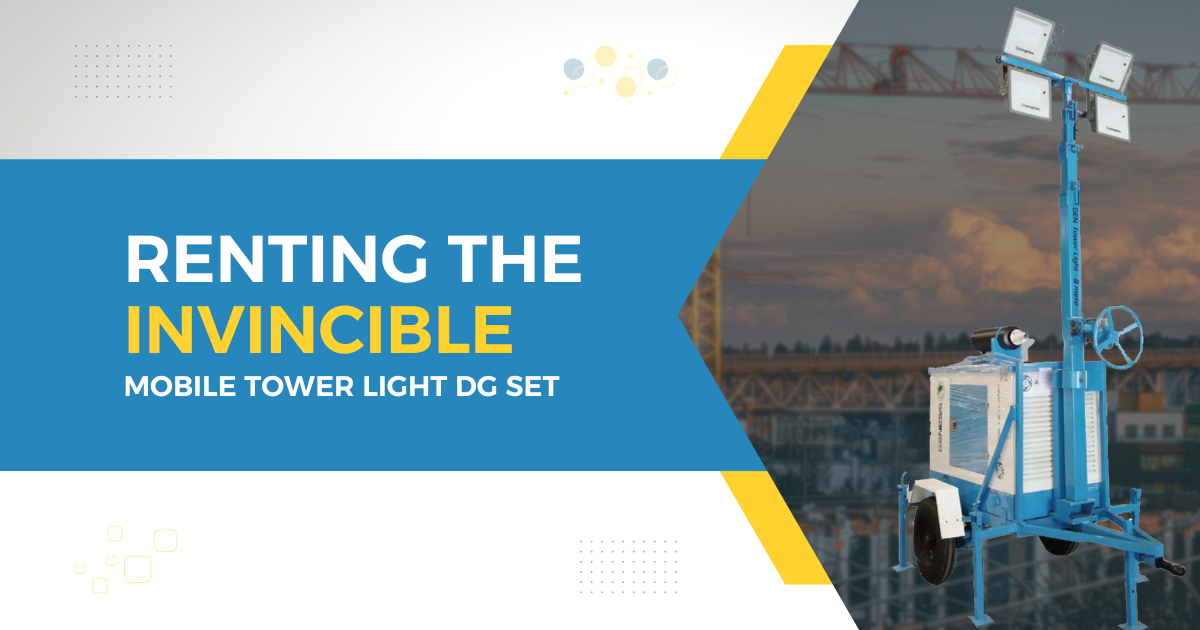 Renting the invincible mobile tower light DG set
A very warm good morning to all our viewers. It feels good when you get to read our features and in turn it's also encouraging for us to come up with new useful ideas. Today we will see an interesting dimension of this special mobile tower light DG set which doesn't come much under limelight. It is important that from time to time emphasis is laid on making this variant of the diesel generator more popular. Let's make this guy popular !
The magic on wheels, it's persona
Whenever we talk about diesel generators, the only picture that comes to mind is a heavy, boxy-looking diesel generator. Correct? So, what if we told you that there is this mini DG set for rent that can brighten up your events and needs anywhere, anytime? Yeah, this diesel generator is termed Mobile Tower Light DG set and it can fit easily just like your family member at your premises. Now for those who are into construction activities, night schools, small events, or just for domestic use- this DG set makes up for a perfect option for standby power on rental basis due to the special attributes:
Budget friendly portable DG set that can extend up to a height of 9m
Powerful Ashok Leyland engine.
DG sets that love peace and also less appetite for fuel.
Set of 4 powerful LED lights that can be rotated 360 degrees for bright visibility that is also easy on the eye.
Powerful 15 kva output
You can attach this DG set to your car and carry it with ease.
The strong 5 jacking points ensure firm support when placed.
A strong chassis that holds the DG set.
Imagine you and your team have a sports fest and to win a medal you need to give your best day and night. Day is fine, but what about when it is dark due to power shortage or quotas? Your team wouldn't want to let the state or nation down. So to keep this spirit going the mobile tower light DG set plays a crucial role. Your coach or management can just pin it to the rear of their vehicle and detach it once at the practice area and take it back once done. See, how simple the rental benefit is with this type of DG set. You can also opt for a bigger Dg set but it would not fit in with the purpose also where the budget and specificity comes into play.
Did this wheelie-blulee tower light DG set attract you?
Often we are not aware of interesting things around us. It's only when someone tells you about it, that you start feeling excited or start thinking about it. Now that we have created an awareness, you can share the same with your friends and family. It's good to know.
If you are desperately looking for a DG set to rent that meets your needs, similar to the ones mentioned, then just straightaway call Gen Rentals on +919246275543 or convey your requirements on genrentals.in. Gen Rentals is the leading DG set rental provider in Hyderabad, who also provide various other diesel generators for rent at pocket friendly prices.
Small things matter a lot, be it values, emotions or just machines. Stay charged, stay focussed! Thanking all our readers for their valuable time.