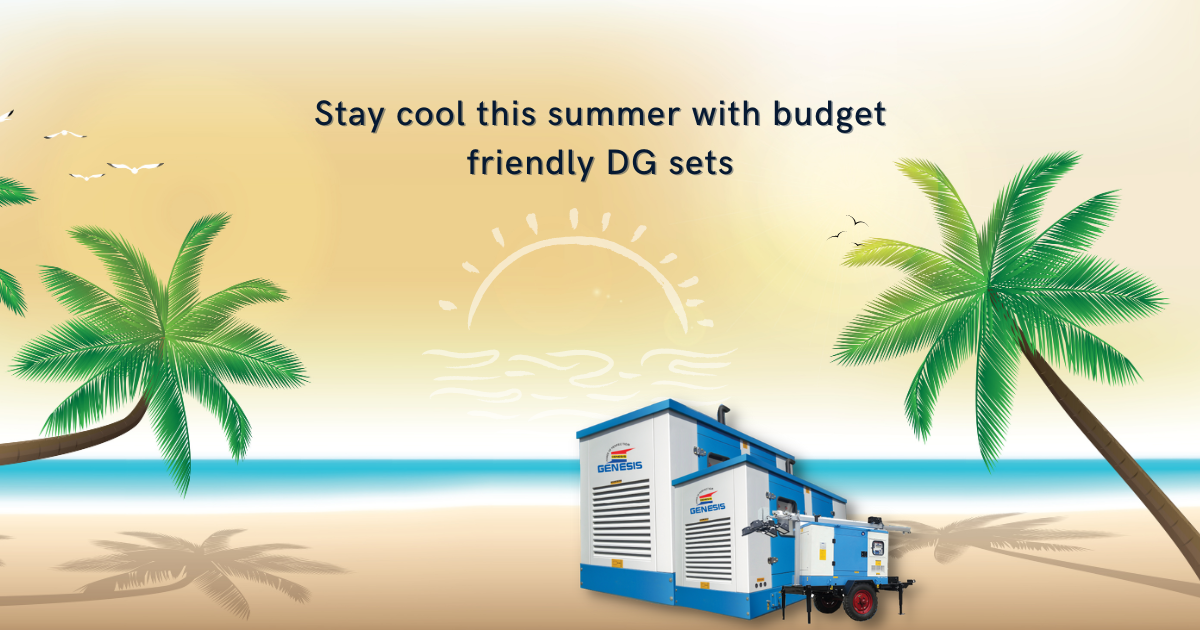 Stay cool this summer with budget friendly DG sets
Four hours have passed, still no sign of electricity which has now turned into an agony. Mother-in-law is like I need to watch the 7:30 pm serial on Maa Tv, why is there no current yet? Ayyo, so hot inside despite the windows, karma karma. The poor husband comes home after a tiring day at work only to be welcomed by the tantrums of his mother. Nobody is even bothered to ask him for a glass of water. He never complained about the cricket match that he is already missing.
This is a reality, especially during summer months. There could be different reasons for the power cuts such as :
Overloading
Temperatures
Shortage of coal or water to run power plants
Damage to the overhead high tension lines or poles.
Typical desi household
Summer months are fun but often lead to exhaustion and perspiration. Schools are closed for summer vacations for a month and a half, which is a sign for enjoyment. Staying indoors means fans, coolers, air conditioners on full blast. Refrigerators trying hard to keep food, drinks and the brains of the family members chilled, from spiritual programs to webseries, tv bears it all. It is the same for all other families. When relatives come to stay, then the situation becomes even more intense. Fans and coolers now run in every single room and you start worrying what if there are long power cuts.
The earner of the family member starts feeling the pinch. In fact, there are two things that he/she is worried about other than the hefty power bill that is waiting to be kissed at the end of the month :
A ) How to deal with power cuts.
B ) Will the solutions be expensive
Solutions that let you sleep and work peacefully
As far as case A is concerned, there is an effective method to deal with power cuts during summer. The answer is opting for a backup source (standby power) in the form of renting a budget friendly diesel generator. An earning member of a family usually thinks twice before renting a diesel generator. The issue was not about power cuts, but the very lack of awareness. What you hear is not always true and what others speak about diesel generators is not golden.
For case B, no, the solutions are reliable and friendly in your pocket. What if we told you that you can rent the best quality diesel generators according to your needs in Hyderabad? How would it look if your neighbours start thinking Arey, how come they have power and we don't?"
Family satisfaction & budget free standby power solutions in one place
The ultimate answer for all your summer and power related queries is Gen Rentals - The leading hub for best budget friendly diesel generators along with the fantastic services in Hyderabad. It's time to keep kids happy and occupied. Beat this summer, by dialling +919246275543 or genrentals.in.