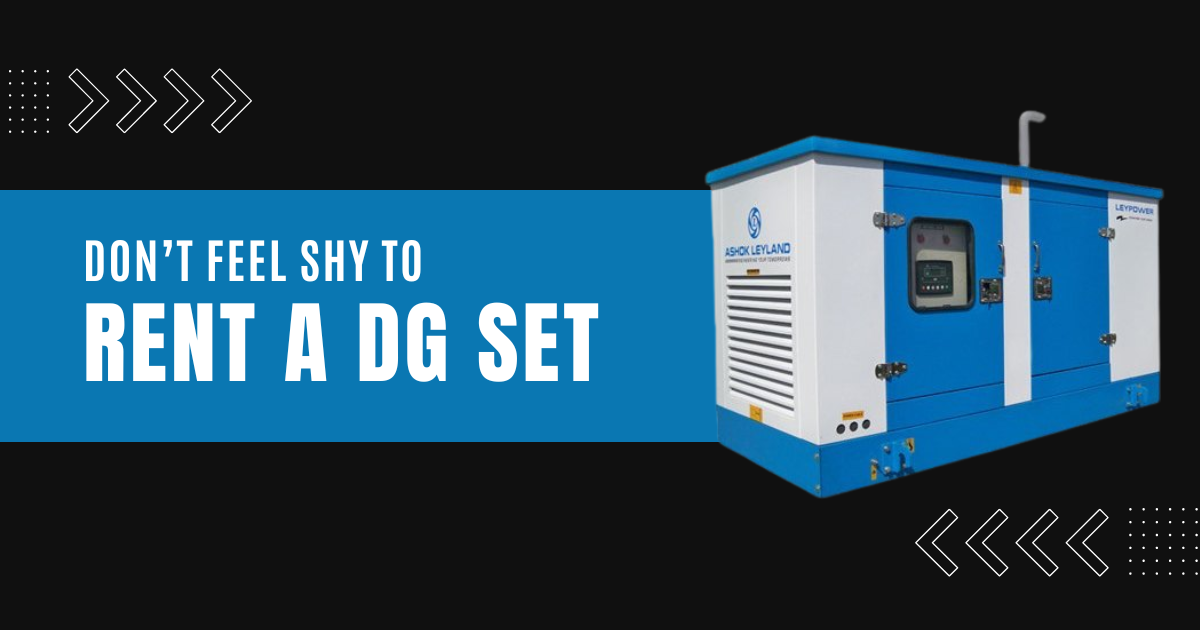 Don't feel shy to rent a DG set
What does To Rent mean to you? Does it sound awkward, or does renting devalue your status? As a consumer, our access to various kinds of products varies according to the needs. It is interesting to note how people are attracted to luxury commodities and how they utilise their services without minding to rent them (clothes, automobiles and houses).
Why Shy?
TThe very first reason is the lack of awareness. What most of them don't know is that they can actually rent efficient and budget friendly diesel generators, with some great added value added services.
Feeling unassured of the DG set rental company. Many times, customers are not convinced. They start doubting the diesel generator, whether or not it would be able to satisfy their demands.
Renting a DG set lowers the status in society - a common misconception. "Mr ABC can afford a luxurious German Sedan but is now renting a diesel generator !". Delivering such statements and thinking that way often demotivates the prospective customer or who has already bought the DG set for rent. The prime concept of renting a diesel generator is to maximise savings while standby power is being delivered (standby electricity or power back, as commonly called).
Culture barriers also play a role in such instances. Maybe the customer is from a background where renting is looked down upon / not encouraged / concept does not exist. In such a case, people around them emphasise how valuable renting a diesel generator is.
How can one create awareness
Blogs on diesel generator rentals.
Speaking to the DG set rental staff.
By holding a small meeting on weekends or by sharing it in a WhatsApp group (if you feel that saves time).
Understanding the core advantages of diesel generator rentals versus purchasing a DG set.
The ultimate DG set rentals - savings unlimited
It's not a time to feel low about renting a diesel generator. Did you know that even mega establishments such as Amazon , SBI , Indian Oil, Grofers and many more have cleverly optimised their business operations by renting diesel generators for years now. If they can, then why not you?
Gen Rentals, the ultimate hub for superior and budget friendly diesel generator rentals in Hyderabad, has made thousands of customers happy for the past 15 years. With a friendly service team and amazing power output options, Gen Rentals aims to serve you like never before. For the best, cost effective diesel generators, call Gen Rentals team on +919246275543 or www.genrentals.in.
Happy to have shared this amazing blog and we hope you can raise some awareness yourself. Thank you for taking your time and do check out this space for more.