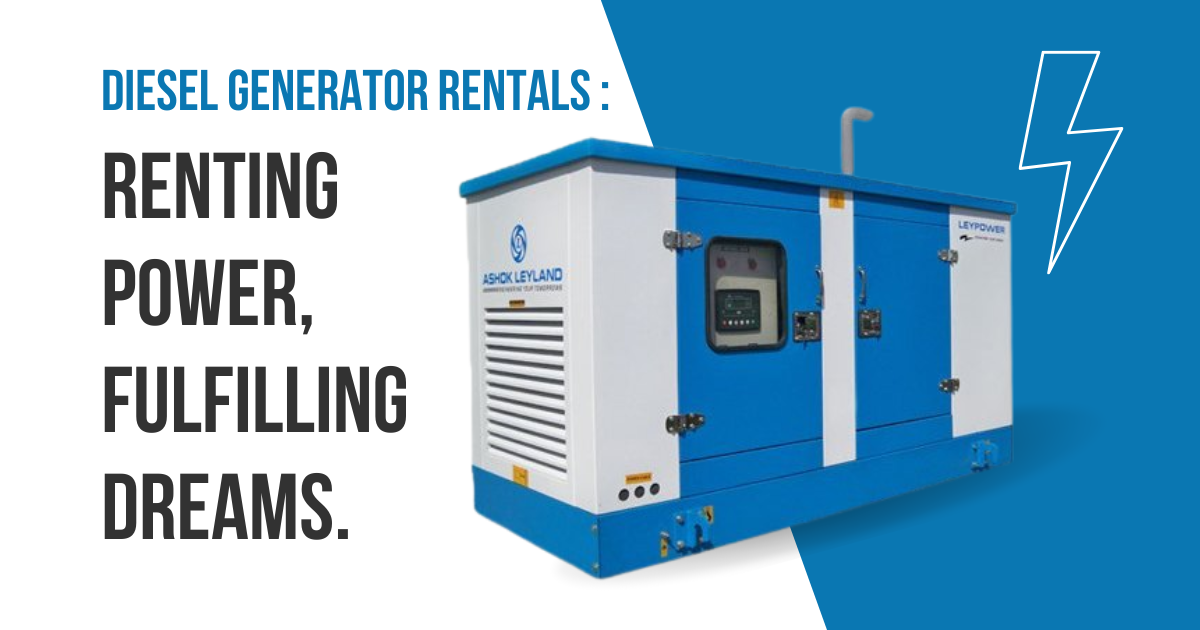 Diesel Generator rentals: Renting Power, fulfilling dreams
Swagatam to all our readers. Come March and the first thing that comes to our mind is how to minimise the problem of power cuts. Power cuts can take place due to various reasons (sometimes irrespective of the season), which poses a great challenge to an established school.
Giving more strength to Ganesh's dream
A native of Hyderabad, Ganesh was a typical middle-class boy who completed his master's with distinction. He had a personality marked by great determination and hard work. Ganesh always wanted to be a teacher, and in a couple of months, he successfully landed a job as a teacher in a reputed school. Not a single day would pass when he wouldn't return home with a smile, studded on his face.
Five years had passed and Ganesh wanted to do something beyond his regular school job. Revisiting his college days and hardships associated with it, Ganesh was focussed on opening a small tuition centre for students pursuing intermediate. He managed to find a room through his friend. On weekends the timings were 9-11 am and on weekdays just 6-7pm. Days passed, and all seemed to be going well before the real problems started erupting.
Without any prior intimation, the locality started witnessing a rise in the duration of power cuts, which began causing a lot of inconvenience to residents. For Ganesh, it was like an axe falling on his foot daily, because there were more students willing to join his institute which he could not risk losing and secondly this was now his part-time goal for the long-term.
He soon started looking for options and after a week he approached Gen Rentals, the leading providers of the DG set rentals in Hyderabad for standby power. Since Ganesh was budget conscious, he was unsure of the rental prices and once he narrated his ordeal, the Gen Rentals team suggested to him the 5 KVA DG set for rent that came with best features. The commissioning of the DG set was completed in 3 days. Ganesh now need not worry about power cuts anymore.
You too can rent some of the best DG sets in Hyderabad
For any occasion, ultra-modern diesel generators are now available for rent at wallet friendly prices. Did you know you save more through DG set rentals, plus also get to enjoy some amazing services from the DG set rental company.
Gen Rentals, the number one DG set rental service provider in Hyderabad has a wide range of diesel generators for rent, ranging from 5KVAto 250 KVA that are a good fit for hospitals, warehouses, educational institutes, offices and retail stores. To book a DG set for rent, call Gen Rentals on +919246275543, or visit www.genrentals.in, for more details.
We all have potential. All we need is power in the form of motivation and confidence to help move forward. Please share this column if you liked it. Stay tuned for more.