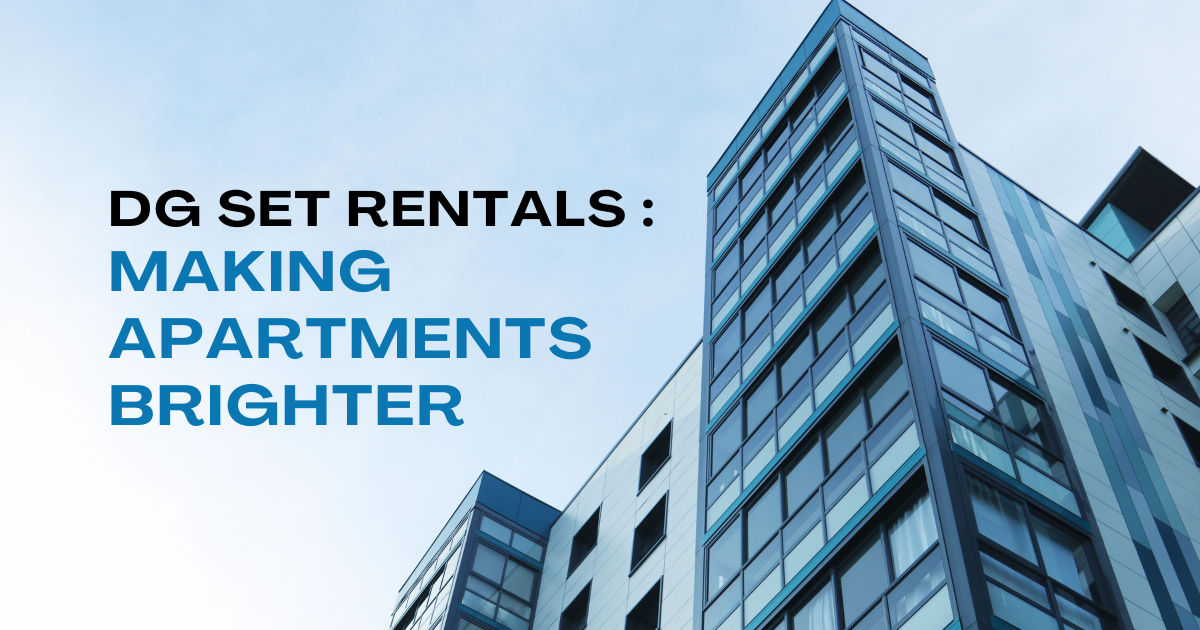 DG set rentals : Making Apartments brighter
High Rise apartments are filling up every available space in Hyderabad and the same is the case with gated communities (for example, popular localities in Kukatpally, Pragati nagar, Hi-tech city, Madhapur, Ibrahimpatnam, Dundigul and A.S.Rao nagar). Power cuts can leave a bad experience for apartment dwellers, since they are taken by surprise when such a situation arises.
There is full stop to their entertainment.
Fans stop working thus inviting mosquitoes.
Air-conditioners, ceiling fans do not function either making it even more unbearable.
No electricity, no lift (elevator).
Power backup on rent made affordable
Many of us tend to perceive that diesel generators are costly to rent and the primary reason is the lack of subject awareness. Moreover, diesel generator rental companies offer generous discounts for apartments, but also deliver excellent service after commissioning the DG set. What KVA of the DG set to be erected is decided by the DG set rental service provider.
Usually a diesel generator ranging between 5kva-62.5kva is sufficient to sustain an emergency ( in case of a 5 storied building or more), since in most of the cases electricity is restored within minutes (to few hours in the rarest of the cases), so the DG set need not run for a long duration.
Benefits in the long run
Budget friendly diesel generators, anytime.
Amazing rental plans.
Renting a DG set is comparatively cheaper than purchasing.
A mega range of KVA options for any type of apartment, gated community or a society.
Excellent service and technical assistance after the commissioning of the DG set.
Access to friendly customer service 24/7.
Looking for some best DG set to rent for your apartment?
You know, it can be a challenging and exhaustive task to look out for an efficient diesel generator for your apartment in Hyderabad. Well, it is also possible that you have gone completely blank upon being confronted with various DG set rental companies in Hyderabad. Is it so? Just stay calm, dear resident.
Gen Rentals- the leading provider of modern and budget friendly diesel generators in Hyderabad, ensure that your requirement for standby power is met effectively, 365 days a year. All you have to do is give us a call on +919246275543, or reach us via www.genrentals.in